Orthodontics is the branch of dentistry that corrects teeth and jaws that are positioned improperly. Crooked teeth and teeth that do not fit together correctly are harder to keep clean, are at risk of being lost early due to tooth decay and periodontal disease, and cause extra stress on the chewing muscles that can lead to headaches, TMJ syndrome and neck, shoulder and back pain. Teeth that are crooked or not in the right place can also detract from one's appearance.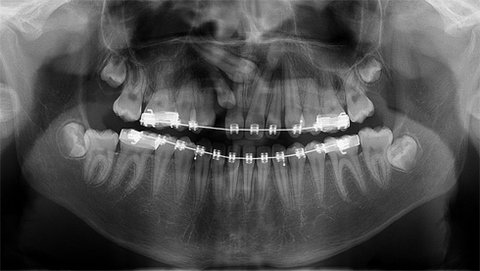 The benefits of orthodontic treatment include a healthier mouth, a more pleasing appearance, and teeth that are more likely to last a lifetime.
A specialist in this field is called an orthodontist. Orthodontists receive two or more years of education beyond their four years in dental school in an ADA-approved orthodontic training program.
Types of Braces


METAL

Metal braces are the most common type. They are made of high-grade stainless steel. Today's metal braces are smaller, more comfortable and more attractive.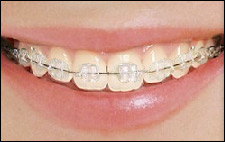 CLEAR

Ceramic braces are made of translucent (clear) material. They are most popular with adult patients, due to their cosmetic appeal. The only drawback to ceramic brackets is that they are more fragile, and the elastic ties can discolor between orthodontic visits.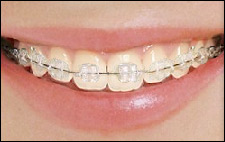 CLARITY

Clarity braces feature a comfortable design with a translucent appearance. Made from a hard ceramic material, these braces won't stain or discolor. With the same performance as metal braces, many patients are now choosing the clear option Clarity!
DAMON

Damon braces were invented by Dr. Dwight Damon. The Damon bracket utilizes (sliding-door) technology known as "self-ligation" that allows the wire to slide back and forth within the bracket. No elastic or steel ties are used with Damon brackets. This technology creates less friction and results in greater comfort for the patient. In addition, Damon braces often reduce both treatment time and the number of adjustments that are usually performed.
IN-OVATION R

In-Ovation Ris a revolutionary new system of braces that is not only faster for your orthodontist to use, it also can significantly shorten treatment time. It's great looking and smaller for greater comfort. Plus, it offers better hygiene than conventional braces.
GOLD

Gold braces are stainless steel braces coated with 24-karat gold and are popular with patients of all ages.
INVISALIGN

The Invisalign System is a series of clear overlay templates called aligners that have been generated by computer simulation to gradually move the teeth. This system is available to adult patients with certain orthodontic bite problems. Ask us if you are a candidate for the Invisalign system.
MIN-TWIN

The Mini-Twin bracket needs fewer archwires over the course of treatment than standard brackets, which increases the overall comfort for the patient. Many patients enjoy its smaller, more compact size, which enables it to be less noticeable, but not less effective. While its profile is up to 30 percent smaller than its competition, it maintains the standard size for its bracket slots, which enable it to maintain the stability and control so important to the treatment process.
Early Treatment
When is the best time to begin orthodontics?
Though an orthodontist can enhance a smile at any age, there is an optimal time period to begin treatment. Beginning treatment at this time ensures the greatest result and the least amount of time and expense. The American Association of Orthodontists recommends that the initial orthodontic evaluation should occur at the first sign of orthodontic problems or no later than age 7. At this early age, orthodontic treatment may not be necessary, but vigilant examination can anticipate the most advantageous time to begin treatment.
What are the benefits of early orthodontic evaluation?
Early evaluation provides both timely detection of problems and greater opportunity for more effective treatment. Prudent intervention guides growth and development, preventing serious problems later. When orthodontic intervention is not necessary, an orthodontist can carefully monitor growth and development and begin treatment when it is ideal.
Why is age 7 considered the optimal time for screening?
By the age of 7, the first adult molars erupt, establishing the back bite. During this time, an orthodontist can evaluate front-to-back and side-to-side tooth relationships. For example, the presence of erupting incisors can indicate possible overbite, open bite, crowding or gummy smiles. Timely screening increases the chances for an incredible smile.
What are the advantages of interceptive treatment?
Some of the most direct results of interceptive treatment are:
Creating room for crowded, erupting teeth
Creating facial symmetry through influencing jaw growth
Reducing the risk of trauma to protruding front teeth
Preserving space for unerupted teeth
Reducing the need for tooth removal
Reducing treatment time with braces
Are you a candidate for orthodontic treatment?
Orthodontics is not merely for improving the aesthetics of the smile; orthodontic treatment improves bad bites (malocclusions). Malocclusions occur as a result of tooth or jaw misalignment. Malocclusions affect the way you smile, chew, clean your teeth or feel about your smile.
Why should malocclusions be treated?
According to studies by the American Association of Orthodontists, untreated malocclusions can result in a variety of problems. Crowded teeth are more difficult to properly brush and floss, which may contribute to tooth decay and/or gum disease. Protruding teeth are more susceptible to accidental chipping. Crossbites can result in unfavorable growth and uneven tooth wear. Open bites can result in tongue-thrusting habits and speech impediments. Ultimately, orthodontics does more than make a pretty smile it creates a healthier you.